Updates from Adam Isacson (November 13, 2023)
Hi, this is Adam. If you're receiving this message, it means you signed up on my website to receive regular updates. If you'd like to stop getting these, just follow the instructions further down.
When I sent last week's message, I'd been less than two days back from a two-week trip to Colombia. Last week was more "normal," back in Washington. I spent two days of it in all-day planning sessions with WOLA, starting to get ready for next year. It was a great opportunity to spend time with 27 colleagues all in one place, and to reflect a bit on what is going on.
It meant, though, that I've made only a bit of progress so far on reporting back from my time in Colombia. That's my main goal this week, along with work to keep any congressional budget deal from harming migrants' right to seek protection (see below).
This week's e-mail has links to the border update; some charts with new migration data; links to a few recommended articles; and some upcoming events.
---
Weekly U.S.-Mexico Border Update: November 10, 2023
Read the whole update at WOLA's website.
THIS WEEK IN BRIEF:
The U.S. Congress is considering the 2024 federal budget and a supplemental budget request for Ukraine, Israel, Gaza, and the U.S.-Mexico border. In exchange for approval—especially for the supplemental request—Republican legislators are demanding changes to border and migration policy, including a series of measures that would severely curtail the right to seek asylum in the United States. Democrats are opposed, but signal that they are willing to discuss some concessions on asylum, possibly including a higher standard that asylum seekers must meet in initial "credible fear" interviews.
The International Crisis Group and Human Rights Watch issued in-depth research reports about migration in the treacherous Darién Gap jungle region straddling Colombia and Panama, through which about half a million people have migrated so far this year. Both find stark gaps in government presence and a powerful role for organized crime, along with frequent and severe abuses of migrants passing through the zone. Recommendations recognize the complexity of the situation, and focus largely on efforts in source and transit countries to address the causes of migration, improved integration of migrants especially from Venezuela and Haiti, and better cooperation and coordination between states.
Brief updates look at Costa Rica's and Panama's policy of busing northbound migrants through their territory; at Nicaragua's increasing use as an initial arrival point for migrants from Cuba, Haiti, and elsewhere; and at the situation of thousands of migrants stranded in Chiapas and Oaxaca in southern Mexico.
Continue here to read the whole thing.
---
Images from Necoclí, Colombia
Check out these photos from our late-October visit to northwestern Colombia, at the threshold of the Darién Gap migration route.
Our photographer Sergio Ortiz Borbolla did a masterful job here. The kid in the dinosaur costume just guts me.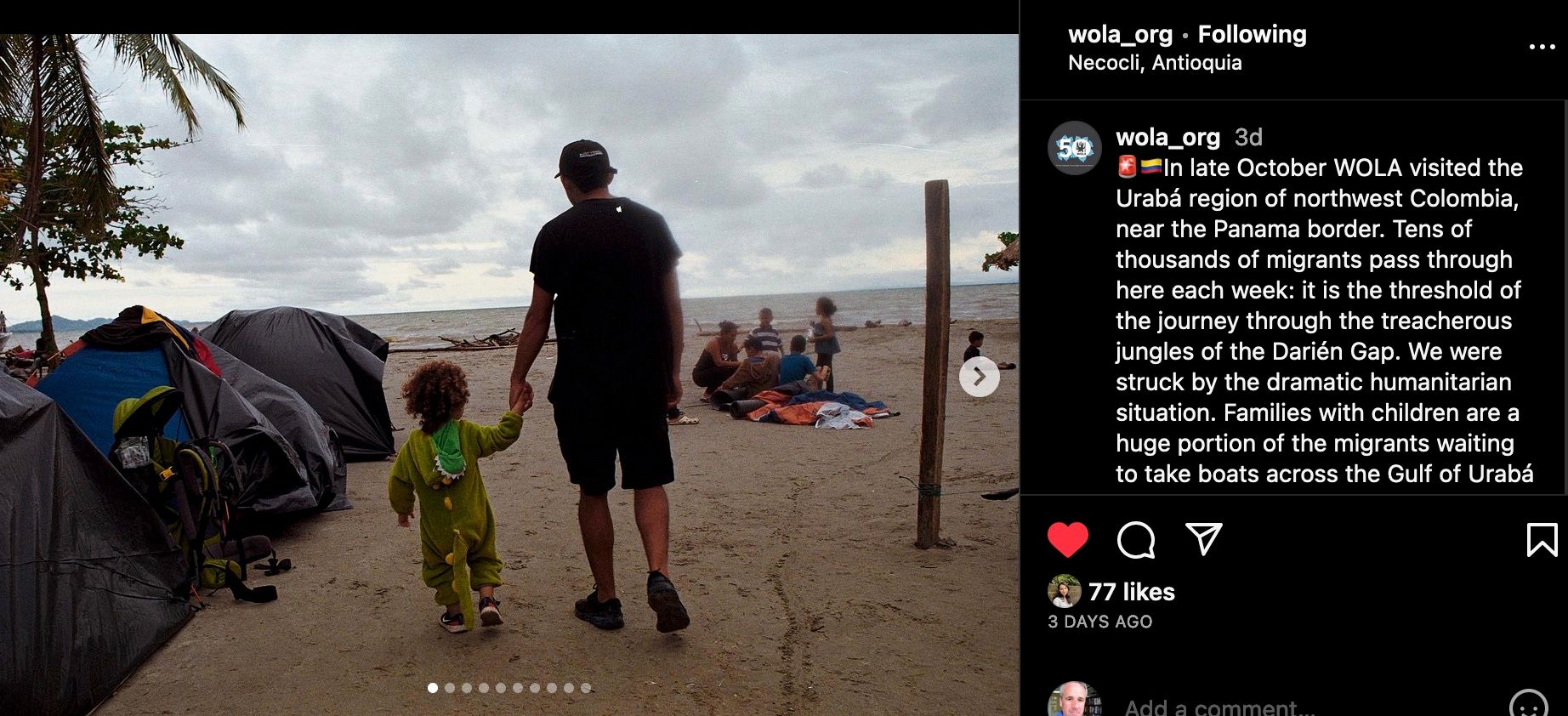 ---
On the Table Now: a Fatal Blow to the Right to Seek Protection in the United States
As noted in this week's Border Update, a Senate Republican "working group" has outlined a border and migration proposal as a likely condition of keeping the U.S. government open past the next "shutdown" date (November 17).
I'm still struggling to express graphically how severe this proposal's consequences would be for tens of thousands of people facing real danger. Here is another attempt.
---
Annual Border Patrol Migrant Encounters by Country at the U.S.-Mexico Border
I don't think I've seen a chart that shows this before. I made it, and the underlying data table, by combining CBP's migrant encounter data from 2020-2023 with data scraped from this big ugly CBP PDF covering 2007-2020.
Looking at this, three things jump out at you:
Until about 10 years ago, the migrant population at the U.S.-Mexico border was almost completely Mexican citizens (blue). More than 90 percent Mexican until 2009. More than 80 percent Mexican until 2012. Just 31 percent Mexican in 2023.
Until the pandemic hit, the migrant population was almost completely Mexican, Salvadoran, Guatemalan, or Honduran (blue, darker green, brown, yellow). More than 90 percent came from those four countries until 2019; their share dropped to 89 percent in 2020. But just 54 percent came from those four countries in 2023.
Since the pandemic, the diversity of nationalities apprehended at the U.S.-Mexico border has multiplied. The arrival of more migrants from Cuba, Haiti, and South America reflects increasing insecurity and economic desperation, but also the emergence of new routes further south, like the "opening" of the Darién Gap and aerial arrivals in Nicaragua.
---
Video: "Migrant Justice in Times of Militarized Borders"
This was a great panel on November 7, with speakers in four countries (the United States, Mexico, Guatemala, and Colombia). We talked about challenges for dignified migration at a time of hardening borders and more military and police involvement in migration control throughout the region.
Many thanks to Hispanics in Philanthropy and Open Society Foundations for organizing it and inviting me to participate.
---
One Out of Four Is a Lot
This can't be the point Sen. Graham wanted to make, but:
Immigration judges, after rigorous procedures, are finding that 1 out of 4 people coming to the U.S.-Mexico border would be likely to die or be imprisoned if deported.
That's a high likelihood of sending people back to severe harm if we deny them due process. It's a strong argument for giving asylum seekers in the United States a fair hearing and to invest heavily in our asylum system.
---
Haiti Led Nationalities of Migrants Transiting Honduras in October
We've grown accustomed to Venezuela (blue in this chart) being the number-one nationality of migrants transiting Central America and Mexico to come to the United States. Venezuela has been the number-one country of citizenship of people transiting Honduras during every month since March, and U.S. authorities encountered more migrants from Venezuela than from any other country—including Mexico—at the U.S.-Mexico border in September.
Data from Honduras in October, however, show at least a temporary pause in that trend. Last month, Honduras registered more migrants from Haiti transiting its territory (brown in this chart) than from Venezuela. (A new "Mixed Movements Protection Monitoring" report from UNCHR also notes this trend.)
It was a record month for Honduras's registries of in-transit migrants from around the world: 102,009 people with "irregular" migratory status registered with the government, a necessary step for a short-term legal status making it possible to board buses to get across the country. Of that number, 35,529 were Haitian and 34,547 were Venezuelan. (271 were recorded as Brazilian and 489 as Chilean; many—probably most—of them were children born to Haitian citizen parents who had been living in those countries.)
Transit of Venezuelan migrants through Honduras fell 19 percent from September to October, from 42,550 to 34,547 people.
A possible reason could be a reaction to the Biden administration's early October agreement with Venezuela to resume deportation flights to Caracas, news of which may have led some would-be migrants to pause their plans. Aerial deportations are expensive, however, and a charter flight to Venezuela only holds about 100-150 people. It is reasonable to expect Venezuelan migration to recover, as conditions in the country remain dire and as Venezuelans considering migration realize that the probability of aerial deportation is slim.
The sharp increase in Haitian migration appears to owe to a new air route from Haiti to Nicaragua, which does not require that visiting citizens of Haiti obtain a visa in advance (though it charges them a steep fee upon arrival). For more on that, see this good November 6 analysis from the Honduras-based journalism website ContraCorriente.
---
Links from the Past Week
Migrants from far and wide are trekking northward through the Darién Gap, a dense jungle where they face dangers including criminal predation. Steps to improve law enforcement, ease crises in countries of origin and provide more humanitarian aid would push policy in the right direction
Restrictions on movement imposed by governments in the Americas have pushed migrants and asylum seekers to risk their lives crossing the Darién Gap, a swampy jungle at the Colombia-Panama border
Angelica Medinilla, Arthur Debruyne, Brecht Castel, David Espino, Enrique Garcia, Jody Garcia, Jonny Wrate, Juanita Velez, Victor Mendez, Cocaine Everywhere All at Once: How Drug Production Is Spreading Into Central America, Europe, and Beyond (Agencia Ocote, CLIP-OCCRP, El Universal, Knack, Narcodiario, OCCRP, Ojoconmipisto, Plaza Pública, Organized Crime and Corruption Reporting Project (OCCRP), Monday, November 6, 2023)
Part of "NarcoFiles," a highly recommended series that OCCRP published all at once last week. Drug traffickers are redrawing the map of the cocaine trade for the 21st century: Cultivation is spreading further north, into Central America, while processing labs are jumping across the Atlantic to Europe and beyond
Migrant deaths are on the rise. One group is working to identify and repatriate the remains of migrants too often carelessly buried in the borderlands
Field report from El Plateado, Argelia, Cauca, Colombia, a strategic drug trafficking route where the military's post-election presence—its first time in the community in 15 years—led the largest FARC dissident group to suspend talks with the Petro government
---
Latin America-Related Events in Washington and Online This Week
(Events that I know of, anyway. All times are U.S. Eastern.)
Monday, November 13
10:00-11:30 at the Wilson Center and online: US–EU Cooperation: Strengthening Democracy in Latin America (RSVP required).
Tuesday, November 14
Wednesday, November 15
---
I Was Looking Through Old Colombia Photos
This is from 2002, in Bogotá. The posters look like they were printed by Gutenberg.
---
And Finally