Updates from Adam Isacson (September 25, 2023)
Hi, this is Adam. If you're receiving this message, it means you signed up on my website, probably quite a while ago, to receive regular updates.
I stopped doing these messages a while ago, then the mailing list service I was using got bought by—and killed by—Twitter (RIP Revue). Now, I'm reviving them and hope to share them on a reasonably regular basis. If you'd like to stop getting these, just follow the instructions further down.
This one has a border update, some charts reflecting new data about migration, a couple of brief analyses about Colombia, some news links, and a list of upcoming events.
---
Weekly U.S.-Mexico Border Update: September 22, 2023
Read the whole update at WOLA's website.
Migrant Apprehensions Rise, Shelters Fill
Arrivals of migrants, mostly asylum seekers, at the U.S.-Mexico border rose to about 8,000 per day this week, a level last seen in April 2023 before the termination of the Title 42 policy. As shelters fill and Border Patrol begins releasing processed migrants on border cities' streets, it is apparent that migrants' post-Title 42 "wait and see" period is over. Asylum seekers are again opting to turn themselves in to Border Patrol despite the Biden administration's "carrot and stick" approach of legal pathways and harsh limits on asylum access. Shelters and migrant routes are similarly full throughout Mexico.
Panama Shares Darién Gap Migration Data After a Record Month
Nearly 82,000 people migrated in August through the treacherous Darién Gap jungle region straddling Colombia and Panama. During the first eight months of 2023, over 330,000 people have taken this once-impenetrable route. So far this year, 60 percent have been citizens of Venezuela and 21 percent have been children, despite the dangers of the journey. In this region of dense forest and difficult terrain, governments have limited short-term options to control territory or channel the flow of people.
House Republicans Demand Border Crackdown to Avoid Government Shutdown
As the U.S. government heads for a September 30 budget deadline and an increasingly likely shutdown, the U.S. House of Representatives' narrow, fractious Republican majority may be proposing a bill that would keep the government open through October 31 in exchange for some radical changes to border and migration policy that the Democratic-majority Senate and the Biden White House would be certain to oppose.
Continue here—this week's update is a long one because a lot is going on.
---
Migration at the U.S.-Mexico Border Through August
U.S. Customs and Border Protection (CBP) released new data late Friday night, offering us a more detailed look at what migration looked like at the U.S.-Mexico border through the end of August.
It was the second straight month of increased arrivals at the border, with several nationalities more than doubling since June. Migration levels throughout the Americas have been very high since pandemic border closures eased in late 2020 and early 2021. There was a lull after May 11, 2023, when the Title 42 pandemic expulsions policy ended and migrants went into a sort of "wait and see" mode. That lull has now ended.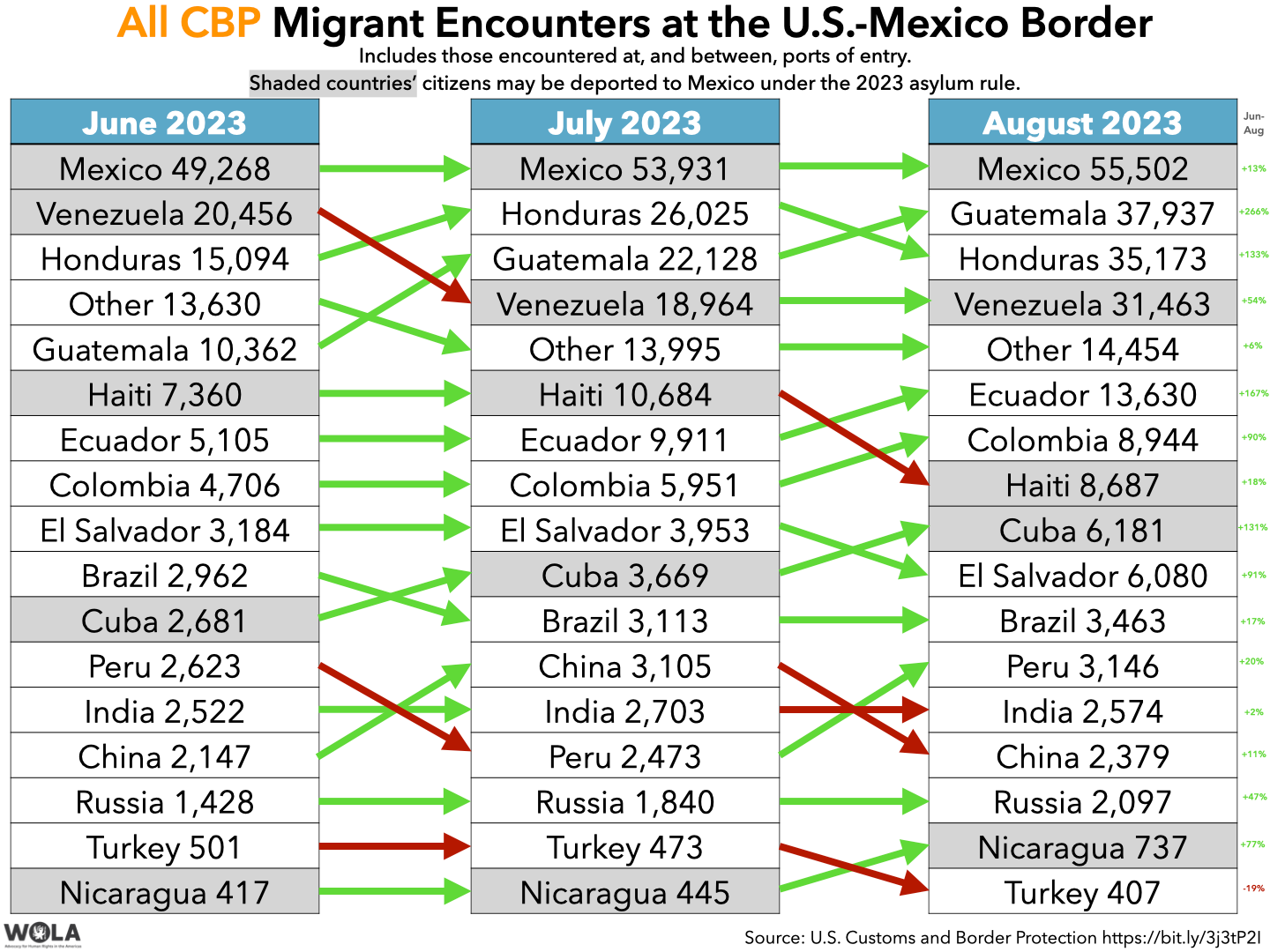 The largest increases were in arrivals of migrants arriving as family units (parents with children.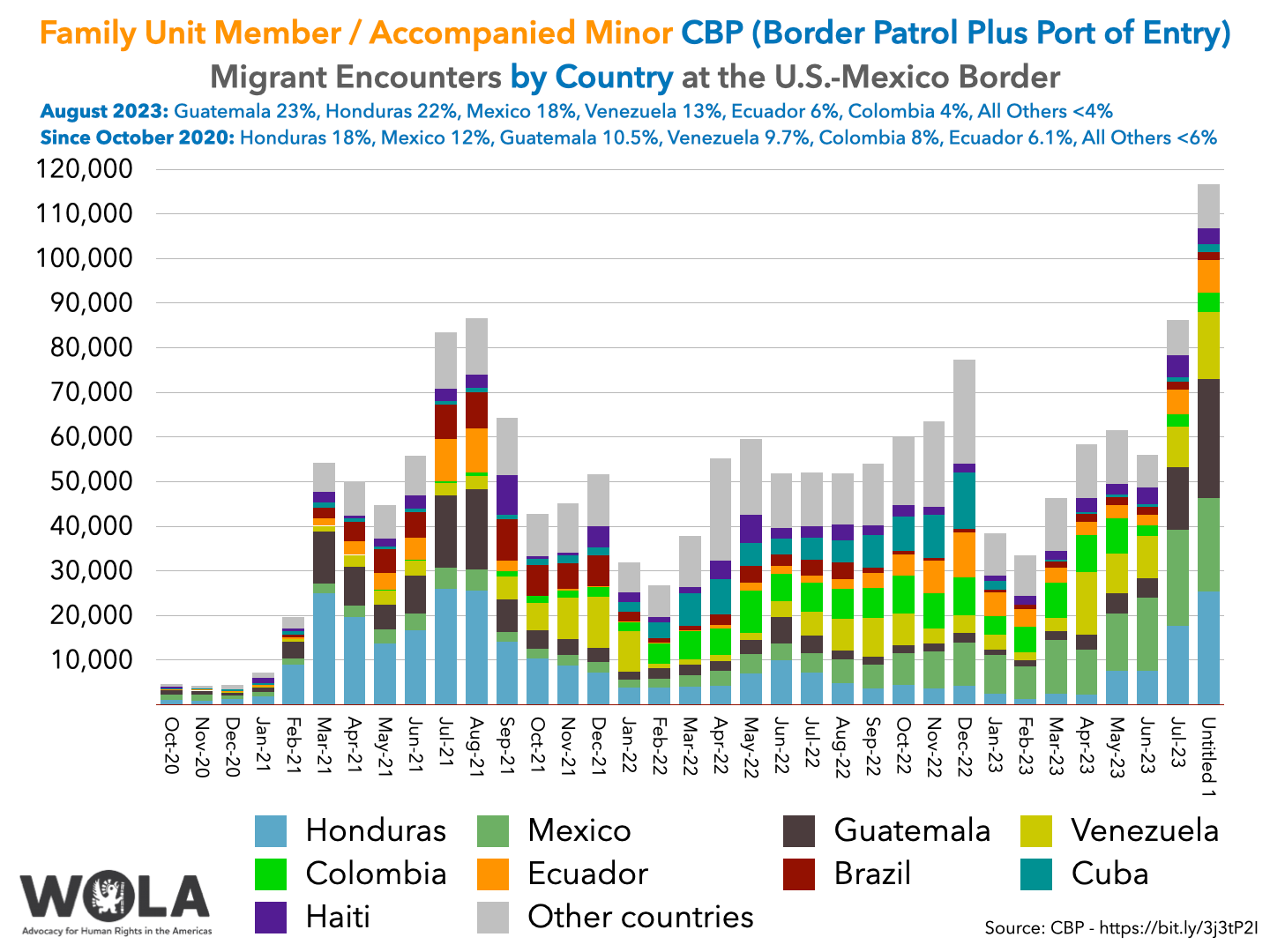 I'm still updating our collection of infographics that explain trends at the border (website / PDF). But I shared selections in three separate posts over the weekend.
---
Darién Gap Migration Through August 2023
We also got August data, detailed in the Weekly Border Update, about migration through the treacherous Darién Gap jungle region that straddles Colombia and Panama.
It broke all records: 81,946 people passed through this treacherous jungle region in 31 days. The previous monthly record, set in October 2022, was 59,773.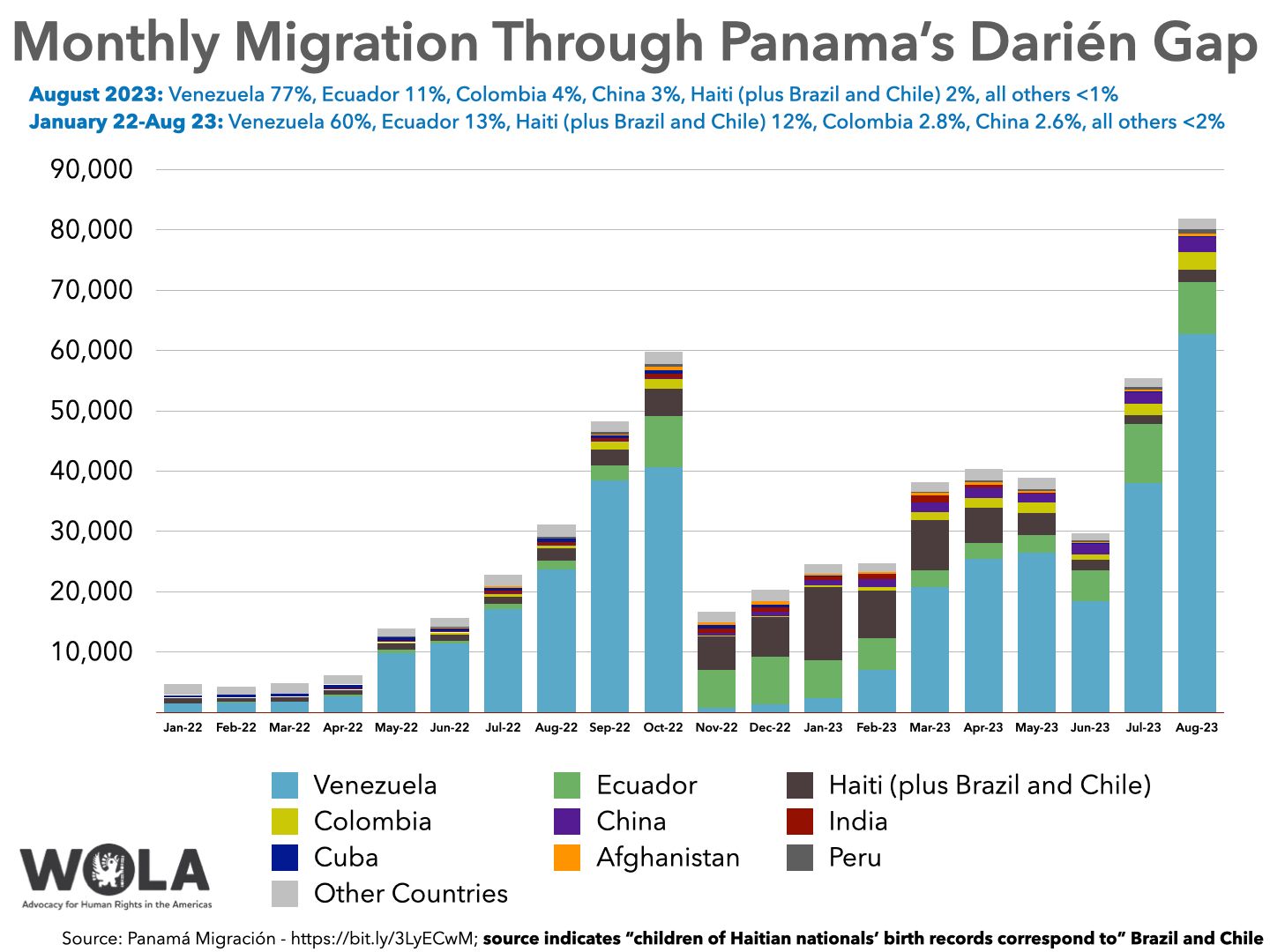 In the first eight months of this year, 333,704 people have migrated through the Darién. Until very recently, migration through this region just wasn't something that happened. Ten years ago, in 2013, the full-year total was 3,051 migrants. In 2011, it was just 281.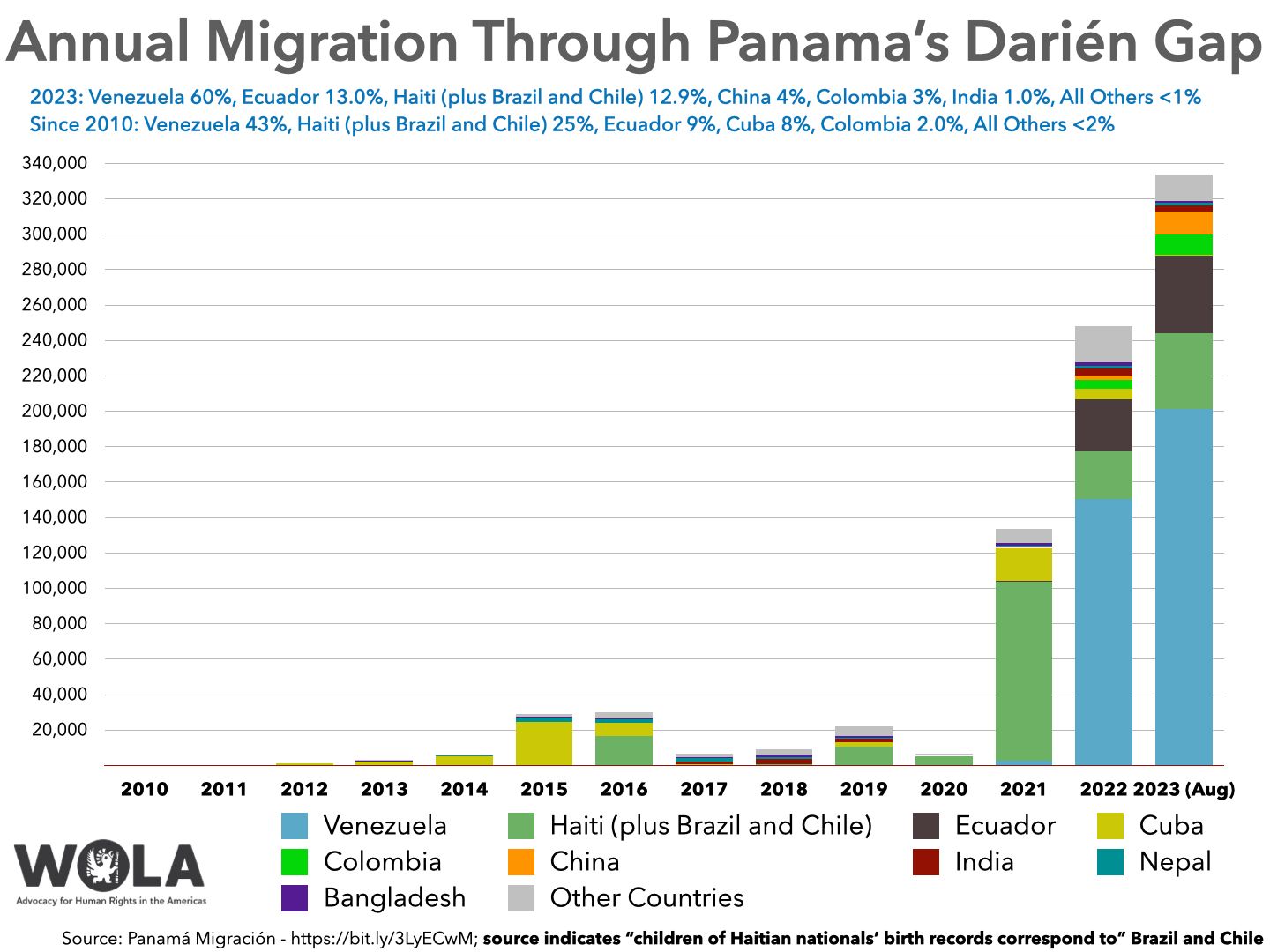 60 percent of this year's migrants through the Darién Gap have been citizens of Venezuela: 201,288 people. In August, the migrant population was 77 percent Venezuelan: 62,700 people.
---
Marta Ruiz on Colombia's "Reverse Land Reform"
If a drug-funded armed group on the U.S. government's terrorist list forced thousands of family farmers off their land, can companies who bought that land just a few years later really claim to have done so "in good faith?"
Marta Ruiz, a journalist who served as a commissioner of Colombia's Truth Commission, asked that question in a highly recommended September 10 column at the Colombian news site La Silla Vacía, about the Montes de María, a region near the country's Caribbean coast where small farmers struggled to win titles to their lands, only to be massively displaced by an early 2000s scorched-earth campaign, including a string of notoriously bloody massacres, by the United Self-Defense Forces of Colombia (AUC).
I posted translated excerpts from her analysis, along with bits of context from my own past work in the Montes de María region.
---
Delaying Tactics Threaten Justice in March 2022 Colombian Military Massacre Case
Here's an update on the case of a March 2022 massacre committed by Colombian soldiers in the southern department of Putumayo. Civilian prosecutors say they've put together a strong case, but justice is moving slowly, as defense lawyers keep trying to move the trial to Colombia's much more lenient military justice system.
---
Links from the Past Week
Writing the Border Update and processing late-week migration data dumps from Panama and CBP have me a few days behind on news, but here are a few readings from last week that I found especially insightful.
Migration in and through the Darien Gap is unlikely to end, at least in the near future
Since 2021, the perception that Eagle Pass is a town on the front lines of an illegal immigration crisis has been used to justify a policy that's  made parts of the city unrecognizable
Programs for the young people that gangs recruit are planned in Buenaventura and other cities. But the country's most powerful armed groups have grown  stronger, according to experts, and bloodshed between rival groups has  skyrocketed
The Salvadoran president's crackdown on criminal violence has made him  Latin America's most popular leader. Under a state of emergency  declaration, the government is now holding 71,000 people — many,  activists say, on specious grounds
Democratic Congressman Jim McGovern of Massachusetts joined more than three  decades ago the efforts to elucidate another infamous crime: who in the  Salvadoran military orchestrated the murder of six Jesuit priests
---
Latin America-Related Events in Washington and Online This Week
(Events that I know of, anyway. All times are U.S. Eastern.)
Monday, September 25
3:00-4:00 at wilsoncenter.org, thedialogue.org, or atlanticcouncil.org: A Conversation with President of Ecuador Guillermo Lasso (RSVP required).
Tuesday, September 26
Wednesday, September 27
Thursday, September 28
Friday, September 29
11:00-12:00 at the Wilson Center and online: Catastrophes, Confrontations, and Constraints (Book Launch) (RSVP required).
---
Sheridan Circle Saturday
Here's a poor quality mobile phone photo of Chile President Gabriel Boric on September 23 in Washington's Sheridan Circle, at a memorial of the 1976 state terrorist attack there that killed Orlando Letelier, the foreign minister in Salvador Allende's government, and Ronni Karpen Moffitt of the Institute for Policy Studies.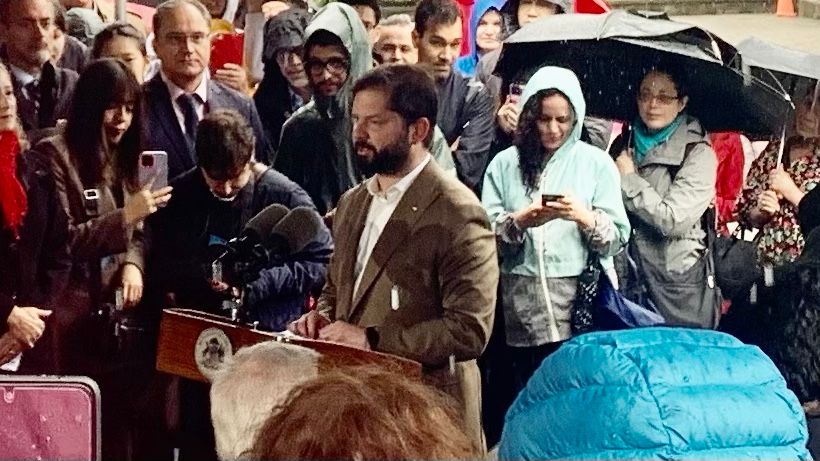 ---
And Finally